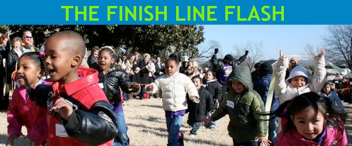 February 12, 2014
In this edition of the Finish Line Flash, we bring you news of an HHS report detailing the large share of uninsured Latinos who are eligible for subsidized coverage under the Affordable Care Act (ACA).  It is followed by a report from the National Academy for State Health Policy (NASHP) that describes states' challenges during open enrollment and their work around strategies. Next is a brief from the Center for Health Care Strategies, Inc. that discusses key state considerations to mitigate churn. We also highlight a new brief from the Kaiser Family Foundation on Section 1115 Medicaid waivers and an Enroll America webinar on enrollment outreach strategies.
Health Reform Resources

Eighty Percent of Eligible Uninsured Latinos Qualify for Subsidized Coverage –– Yesterday, the Department of Health and Human Services (HHS) released a report finding that nationally, 8 in 10 uninsured Latinos may qualify for Medicaid, the Children's Health Insurance Program (CHIP), or lower costs on monthly premiums through the Health Insurance Marketplace. That share would rise to nearly 95% if all states expand Medicaid.  The report provides a breakdown of demographic characteristics of eligible uninsured Latinos nationally and also the number of eligible Latinos by state.
Early State Experiences with Open Enrollment –– This new NASHP report, supported by the Robert Wood Johnson Foundation's Maximizing Enrollment project, describes states' experiences with implementing enrollment systems during the first three months of the ACA's inaugural open enrollment period. It considers enrollment implementation challenges including consumer education and assistance, application and enrollment, and Medicaid and open enrollment. The early challenges and state work-around strategies may prove instructive for future enrollment efforts.
Minimizing Churn Between the Marketplace and Medicaid –– This brief from the Center for Health Care Strategies, Inc. discusses how the range of coverage options under the ACA may complicate the issue of churn. States can mitigate churn and this brief explains some of the key steps to do so, such as understanding which populations are more likely to churn and leveraging health plan contracting. The brief also highlights select state experiences with these techniques.
The ACA and Recent Section 1115 Medicaid Demonstration Waivers – The expansion of Medicaid under the ACA allows states to expand coverage to adults without obtaining a waiver, but states may wish to continue to utilize them. This brief from the Kaiser Family Foundation explains how the implementation of the ACA changes the use of Section 1115 waivers. Post-ACA, states seeking 1115 waivers fall into two groups, those that seek to tailor the ACA Medicaid expansion while still receiving federal matching funds for newly eligible adults, and those that want to maintain coverage that was in place prior to the ACA, but do not qualify for enhanced federal funding.  The brief also provides an overview of the key 1115 waiver provisions that CMS has and has not approved.
Upcoming Events
Outreach Ideas from Enroll America—Enroll America will host a webinar on February 19 at 4:00 pm Eastern.  It will highlight several outreach strategies to use right away to reach uninsured consumers, including working with community colleges, conducting a phone-a-thon, engaging faith communities, getting earned media coverage, and running an effective enrollment event and how to get support.
January 29, 2014
This edition of the Finish Line Flash includes a bevy of health reform resources. First, we include a brief from the Urban Institute on how the ACA market reforms are impacting individuals and families. Next is a report from the Bookings Institution on how the ACA has the potential to reduce income inequality. That is followed by a Say Ahhh! blog post on why risk corridors are a necessary component of the ACA.  Finally, we include a brief and an upcoming webinar from the National Academy for State Health Policy (NASHP). The brief provides an overview of Medicaid trainings for consumer assisters in federally facilitated marketplace states and the webinar will cover how some states are working to improve EPSDT.
Health Reform Resources

Early ACA Market Reforms – This brief is one of the first in a series from the Urban Institute's Health Reform Monitoring Survey that examines the effects of the Affordable Care Act. This particular brief explores whether survey respondents or their families have benefited from seven early market reforms, including access to coverage for children with pre-existing conditions and expanded access to coverage for young adults. Responses are also broken out by poverty level. Overall, 41.3% of respondents note that they or their family have benefited from at least one of the ACA market reforms.
Can the ACA Reduce Income Inequality? – Yesterday, the Brookings Institution released the preliminary results from its study that examines the impacts of the ACA as of 2016 on income. The authors suggest that the ACA "[M]ay do more to change the income distribution than any other recently enacted law." By defining income as wages plus the fungible value of employer and public health insurance, those with income in the bottom 30 percent will feel most of the effect. Workers in the bottom second and third decile see gains in income. However, those in the bottom 10% actually see a loss when accounting for the small number who switch from an employer-sponsored plan to Medicaid, as the fungible part of government and employer sponsored contributions are counted differently. See table 5b for a closer look.
Risk Corridors Are Not Bailouts for Insurance Companies – Georgetown University Health Policy Institute researcher Jack Hoadley explains in a Say Ahhh! blog post why repealing risk corridors, as Sen. Rubio has proposed, would be a bad idea. Risk adjustment, reinsurance, and risk corridors (or the "3 Rs" included in the ACA) are modeled after the success of such components in the Medicare Part D program. Moreover, "In contrast to the view that risk corridors are a means of bailing out plans, the experience in Part D suggests that they have actually protected the taxpayer," Hoadley writes.
Medicaid Training for Marketplace Assisters – This brief from NASHP provides an overview of federally developed Medicaid training for Marketplace assisters. It also summarizes state-specific trainings that have been developed in Arizona, Illinois, Montana, and South Carolina to provide assistance to federal Marketplace assisters and/or traditional Medicaid staff.
Upcoming Events
Improving Care Delivery for Children in Medicaid – NASHP will host a webinar on Wednesday, February 5th from 3:00-4:30 pm (EST) to explore how Washington D.C., Iowa, and Minnesota are working to improve service delivery under Medicaid's Early and Periodic Screening, Diagnosis, and Treatment (EPSDT) benefit. Specifically, the discussion will focus on efforts to better coordinate care, collect data for quality improvement, and enhance access and delivery of behavioral health services for children.
January 8, 2014
This is the first edition of the Finish Line Flash for 2014 and we hope everyone's New Year is off to a great start. Below we share a report from the Government Accountability Office that compares CHIP and private plans on benefits, affordability, and access. It is followed by news of a FAQ from the Centers for Medicare and Medicaid Services that addresses three Medicaid and CHIP eligibility and financing issues. Our picks for health reform resources include two new products from the Kaiser Family Foundation. The first is a set of fact sheets explaining how the ACA will impact the uninsured in each state. The second is a report that examines the causes and consequences of medical debt and what the ACA can and cannot do to prevent or reduce it. Finally, we alert you to the Center on Budget and Policy Priorities' upcoming Beyond the Basics webinar.
Medicaid and CHIP
GAO Compares CHIP, Private Plans—The Government Accountability Office (GAO) in December released a study that takes an initial look at the benefits, affordability, and access in CHIP compared to private plans.  It examined benefits and costs to families in five states and analyzed nationwide data on access from the Medical Expenditure Panel Survey for the years 2007 through 2010.  GAO concluded that, in the five states, the benefits in CHIP were generally comparable to those in the private plans that serve as the states' EHB benchmarks, while CHIP was almost always more affordable for families.  CHIP families' reports of their access to care was similar in CHIP and private plans, but their reported use of some providers like orthodontists and emergency departments varied somewhat.  Because it covers only five states and was completed before full information became available for 2014 qualified health plans, the study offers a useful but limited preview of the assessment of comparability between CHIP and QHPs that the Secretary of HHS is required to perform by April 2015.
CMS Issues FAQ on Medicaid and CHIP Issues—Just before the New Year, CMS published a FAQ document on three Medicaid and CHIP eligibility and financing issues.  The document answers questions and makes clarifications on how states can claim federal funds for the Medicaid expansion population, on Medicaid eligibility for individuals who age out of foster care, and on financing for CHIP, including when the enhanced CHIP match rate applies to costs for children who may switch between Medicaid and CHIP due to ACA changes.
Health Reform Resources
How Will the Uninsured Fare in Your State? - The Kaiser Family Foundation released a set of fact sheets detailing how the ACA will expand coverage in each of the 50 states and the District of Columbia. Each state profile explains the expanded health insurance options and also estimates the share of uninsured individuals who fall into the following groups: Medicaid eligible adults, Medicaid/CHIP eligible children, individuals eligible for tax credits, individuals with ESI or unsubsidized marketplace coverage, and those who are not eligible due to their immigration status.
Medical Debt Among the Insured – This report, authored by researchers at the Kaiser Family Foundation and the Georgetown University Center on Health Insurance Reforms, examines the common causes and consequences of medical debt.  The report draws on case studies with 23 individuals who experienced medical debt to find that high cost-sharing is a primary factor, while the consequences range from damaged credit and emotional distress to depleted long term assets and difficulty accessing care.  Also discussed in the report are the many new protections under the ACA that may prevent or reduce the likelihood of medical debt, as well as some of the causes that will remain, such as high cost-sharing and limits on Essential Health Benefits.
Upcoming Events
CBPP Schedules Next Beyond the Basics Webinar—The Center on Budget and Policy Priorities will hold the next Beyond the Basics webinar on marketplace applications on Wednesday, January 15 from 2:00-3:30 Eastern.  For those who have not yet joined a BtB webinar, they provide high quality, detailed, and accessible training on ACA eligibility and enrollment topics.